This Sunday is the Superbowl….go 9ers!
This first photo is a grilled cheese sandwich with Roasted Butternut Squash, Guyere Cheese, Arugula, Fresh Thyme and Toasted Hazelnuts. If you roast the squash the day before, it goes together in just minutes!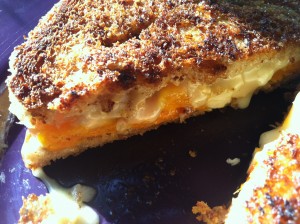 Even if you have no plans to watch the big game, I presume you like fun and tasty snacks.
Spice it Up Hummus in Pita
'Cheese' Dip (so good!)
The Best Spinach Dip
Grilled Cheese Sandwiches with a Twist
Meatloaf Sandwiches
Flourless Chocolate Cake
Make all of them (well, unless you're by yourself) and serve with a nice big salad!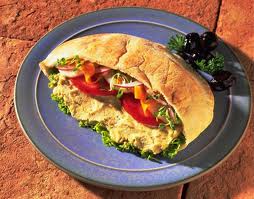 Hummus
To make it spicy, just add some chipotle peppers!

Serve with lots of brightly colored veggies. Raw vegetables are called crudités. You may eat them raw or for broccoli, cauliflower and green peas, lightly steam them first.
Serves 6
Yield: 2 cups
2 cups garbanzo beans, cooked or 1-15 ounce can
1 lemon, juiced
2 tablespoons tahini
2 cloves garlic
1/2 teaspoon cumin
1/4 teaspoon cayenne
1/4 cup olive oil
1/2 teaspoon sea salt
1/4 teaspoon pepper
1/4 teaspoon paprika
Rinse and drain garbanzos and place them in a food processor. Add the lemon juice, salt and pepper, tahini, garlic, cumin and cayenne. Turn on the processor and slowly add the olive oil in a thin stream until the mixture is smooth. Taste and adjust seasonings, if needed. Place in a bowl, drizzle with a little olive oil and sprinkle with paprika. Serve with toasted pita and or veggies.
Spinach Dip
This is one of the best spinach dips you'll ever have!

Servings: 6
Yield: 1 1/2 cups
Serving Ideas: Garnish with lime zest. Serve with crackers, bread or vegetables.
10 ounces frozen spinach, thawed, drained and squeezed dry
2/3 cup scallions, chopped
1/2 package tofu, silken
1/4 cup limejuice
1 teaspoon lime zest
1 1/2 teaspoons Dijon mustard
1 teaspoon sugar, Sucanat
1/2 teaspoon sea salt
1/2 teaspoon pepper
Combine spinach and scallions in food processor and pulse for about 30 seconds, until blended.  Add silken tofu, lime zest, limejuice, Dijon, Sucanat and salt and pepper. Process until smooth.
Red Pepper "Cheese" Dip
Great as a dip for almost any kind of veggie. The nutritional yeast gives this delicious dip its cheesy flavor.
1 medium red pepper, washed and seeded
1 1/2 cups cashews, raw
1/4 cup sesame seeds
1/2 cup water
1/3 cup nutritional yeast
1/4 cup lemon juice, freshly squeezed
1 tablespoon soy sauce
Blend all ingredients in a blender until smooth. Allow at least 2 hours to set up, in the refrigerator.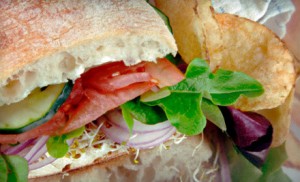 Meatloaf Sandwich
Yes, this looks like a veggie sandwich…and it is

Just add a nice slice of turkey meatloaf and there's a better version of a meatloaf sandwich. By the way, this is one of my most requested recipes.
Turkey Meatloaf
Can be made with ground beef or ground chicken
Serves 10
3 pounds ground turkey
3 large eggs
1 cup oatmeal
1 medium red pepper, chopped fine
1 medium yellow onion, chopped fine
1 small carrot, grated
1 stalk celery, chopped fine
1 1/2 teaspoons sea salt
1 1/2 teaspoons pepper
1 1/2 teaspoons dry mustard
Preheat oven to 375 degrees.
Place the all ingredients in a large bowl and mix well. I find it easier to use my hands for the mixing. Place the mixture in the 9X9 pan and shape into a loaf. Bake for 1 1/2 hours, or until light brown.
Substitutions: If you are sensitive to oats you may substitute leftover brown rice or brown rice breadcrumbs.
So many choices!
You may form the turkey into meatballs and place on a cookie sheet to bake. Cooking time for meatballs is about 30 minutes, depending on the size. You may also sauté them in a large frying pan in a little olive oil. After they have browned on all sides, remove them from the pan and keep them warm on a plate in the oven. Into the pan drippings add one tablespoon flour and cook for one minute. Whisk in 1/2 cup of white wine (or broth) and 1/4 cup of freshly minced parsley and cook for about 3 minutes, or until some of the wine/broth have evaporated. Season with sea salt and pepper as desired. Pour over meatballs and serve.
For a beautiful presentation, try stuffing the meatloaf with additional vegetables. After you have prepared the meatloaf, place a 18″ piece of waxed paper or parchment on a hard surface. Press into a 9 X 12″ size. Into the center of the mixture place some grated carrots, cooked and drained spinach and whatever else you choose. Using the waxed paper roll up the meatloaf and place in pan, seam side down. When you slice into it, you will se spirals of colors. You may also sprinkle your stuffing mixture with about 1/2 cup of grated cheese if you like.
Flourless Chocolate Cake
Serves 16
3/4 cup unsalted butter, cut into bits
6 ounces bittersweet chocolate, finely chopped
6 ounces semisweet chocolate, finely chopped
6 eggs, separated, room temperature
1/2 cup honey, divided
1 tablespoon vanilla extract
1/8 teaspoon sea salt
Butter a 9 or 10″ spring form pan. Line the bottom with parchment paper or waxed paper. Butter the paper, the sides of the pan and flour the entire pan. rap the outside of the pan with foil.
Preheat the oven to 350 degrees and place a rack in the center of the oven.
Place the butter and chocolate in a double boiler and set the bowl over, not in, a pot of hot water and set on low heat. Do not allow the water to boil. Stir occasionally and check to see when it is melted. Stir to blend and remove from heat to cool to lukewarm.
Meanwhile, beat the egg yolks and 1/4 cup of the honey with an electric mixture until it is thick and pale, about 3 minutes. Fold in lukewarm chocolate mixture and then fold in the vanilla and salt.
In another large bowl, beat the egg whites until soft peaks form. Gradually add the remaining honey, beating until medium-firm peaks form. Fold the whites into the chocolate mixture in 3 additions. Pour the batter into the prepared pan and smooth the top.
Bake the cake for 50 minutes until the top is puffed and possibly cracked. A tester inserted in the center comes out with some moist crumbs attached to it. Cool the cake in the pan on a rack. A note here: the cake will fall quite a bit.
Using a small knife, cut around the sides of the pan to loosen the cake, and then remove the sides. Place a 9″ tart pan bottom or plate atop the cake. Invert the cake onto the tart pan bottom. Peel off the parchment paper. Invert the cake bake on the serving platter. Garnish with mint leaves or edible flowers, such as rose petals. Beautiful!
Notes: Try substituting Framboise or other liquor for the vanilla.
This cake will keep for several days. The flavor and texture is best the day after it is made.