About Patty
Patty James M.S., N.C.
Nutritionist. Chef. Author.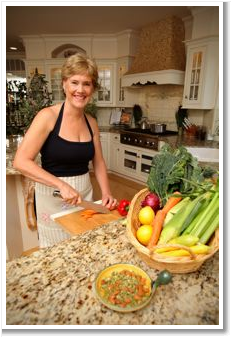 Patty is a Certified Natural Chef with a Master's degree in Holistic Nutrition. Patty was founder and director of the Patty James Cooking School and Nutrition Center, the first certified organic cooking school and nutrition center in the country.
Patty closed the school in 2008 and founded DirectionFive Health, a non-profit culinary and nutrition program for kids and The Healing Kitchen: A Program for Veterans. Patty dedicates her time and expertise to consultations and education in nutrition and healthy cooking, locally and throughout the country, as well as in Canada and abroad. She created a superb teaching aid known as the Patty James Health Guide, a guide to life-long healthy eating and lifestyle and is the co-author of More Vegetables, Please!
Patty is Director of Nutrition and Culinary at NutriCern, a health/tech company that is able to prescribe food as medicine.
Patty is a frequent guest speaker in public and private schools around the US, the Clinton Foundation in New York, Wellness in the Schools, as well as to health practitioners and organizations such as The Boys and Girls Club.
Passionate about the art and science of cooking and natural health, Patty teaches about nutrition in plain language, inspiring students through her dynamic style of teaching people of all ages and walks of life. Her philosophy is simple:
"Eating well is not only possible in the busy life you lead, it is essential to living a balanced life. Through the process & pleasure of cooking we recognize the connection of all beings to each other. Food is more nurturing to body & spirit when we are part of the process."