About Patty
Patty James M.S., N.C. Nutritionist. Chef. Author.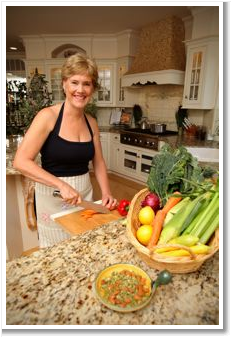 My expertise lies in Nutrition, Health, and Wellness Leadership. I am an accomplished and passionate professional with almost 20 years of achievement in nutrition research, culinary education, writing, and program development, I am the founder of a national non-profit to address children's health needs and the first USDA certified organic cooking school and nutrition center in the U.S. I am an enthusiastic and energetic speaker and coach with a rare talent for engaging and motivating audiences to take positive action regarding health and diet, experienced with on-site research and data collection. I co-authored the popular nutrition cookbook "More Vegetables, Please!" available on Amazon.
I am an inspirational educator and compassionate mentor dedicated to assisting people from all walks of life (especially children and the underserved) in obtaining or maintaining good health through better diet and nutrition. A natural organizer and leader with the practical skills to effect lasting, positive change, I have an outstanding network of resources. My other credentials include M.S. degree in Holistic Nutrition, Natural Chef certification, membership on the Bauman College Board of Directors, teaching for The Clinton Foundation, and serving as senior advisor to The Hypoglycemia Support Foundation.
My philosophy is simple: Eating well is not only possible in the busy life you lead, it is essential to living a balanced life. Through the process & pleasure of cooking we recognize the connection of all beings to each other. Food is more nurturing to body & spirit when we are part of the process.