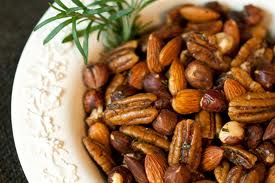 Spiced Pecans
1 pound pecan halves
1 tablespoon sugar (Sucanat)
1 1/2 teaspoons sea salt
1 teaspoon chopped fresh thyme
1 teaspoon chopped fresh rosemary
1/2 teaspoon freshly ground pepper
1/2 teaspoon cayenne
2 tablespoons extra-virgin olive oil
Preheat oven to 350°F.
Spread pecans on a large baking sheet. Roast until fragrant, about 12 minutes.
Combine sugar, salt, thyme, rosemary, pepper and cayenne in a small bowl.
Transfer the roasted pecans to a large bowl, drizzle with oil and toss well to coat completely. Sprinkle with the spice mixture and toss again. Bake for another 3-4 minutes. Serve warm or let cool completely and store in an airtight container.