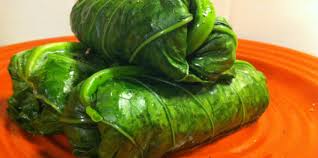 I recently realized that I am more efficient than I realized I was. Turns out I have backed up files from many, many (many…) years ago, and while perusing I found this recipe for Collard Greens Dolmas. I used to make them all the time and they are so good! I already have my menu for today's 4th of July event, but soon I'll make these again. Try them and let me know what you think!
Dolmas with Feta and Cranberries
These serve double-duty as an appetizer or lunch and are good warm or cold
Servings: 6
1 bunch collard greens, 6 medium leaves
1 cup brown rice, short grained
2 cups water
1/2 cup almonds, dry toasted, finely chopped
1/3 cup cranberries, dried, cut in half with scissors.
1/2 cup feta cheese
1/2 teaspoon sea salt
1/2 teaspoon lemon zest
1/4 teaspoon rosemary, ground
1.   Combine rice and water, place in a 2 quart saucepan and bring to a boil. Reduce heat, cover and simmer on low heat for 45 minutes or until done.
2.   Meanwhile, wash collard greens and then blanch for 30 seconds. Cool and set aside. When rice is slightly cooled, stir in almonds, salt and seasonings, cranberries and feta cheese.
3.   Gently, cut large stems from collard leaves. Lay flat on a cutting board. Place a scoopful of the rice mixture in the center of the leaf. Roll up like a burrito tucking in the sides of the leaf. Repeat for all leaves.
4.   To reheat, place in steamer, over, not in, boiling water and steam for 5 minutes. Garnish with orange infused olive oil or orange or grapefruit juice and serve.
Serving suggestion
I like these drizzled with orange infused olive oil (a little fresh orange juice in some olive oil) or simply sprinkled with fresh orange juice or grapefruit juice. For lunch serve with a mixed greens salad with lemon vinaigrette. Toss some (unsprayed) rose petals in the greens for a gorgeous presentation.
Health Tip
Collard greens are an excellent source of calcium, needed for bone health, vitamin K, needed for normal blood clotting, vitamins A, needed for good vision, and vitamin C, which helps to fight infection, heal wounds and keeps tissues healthy. Eat your greens!