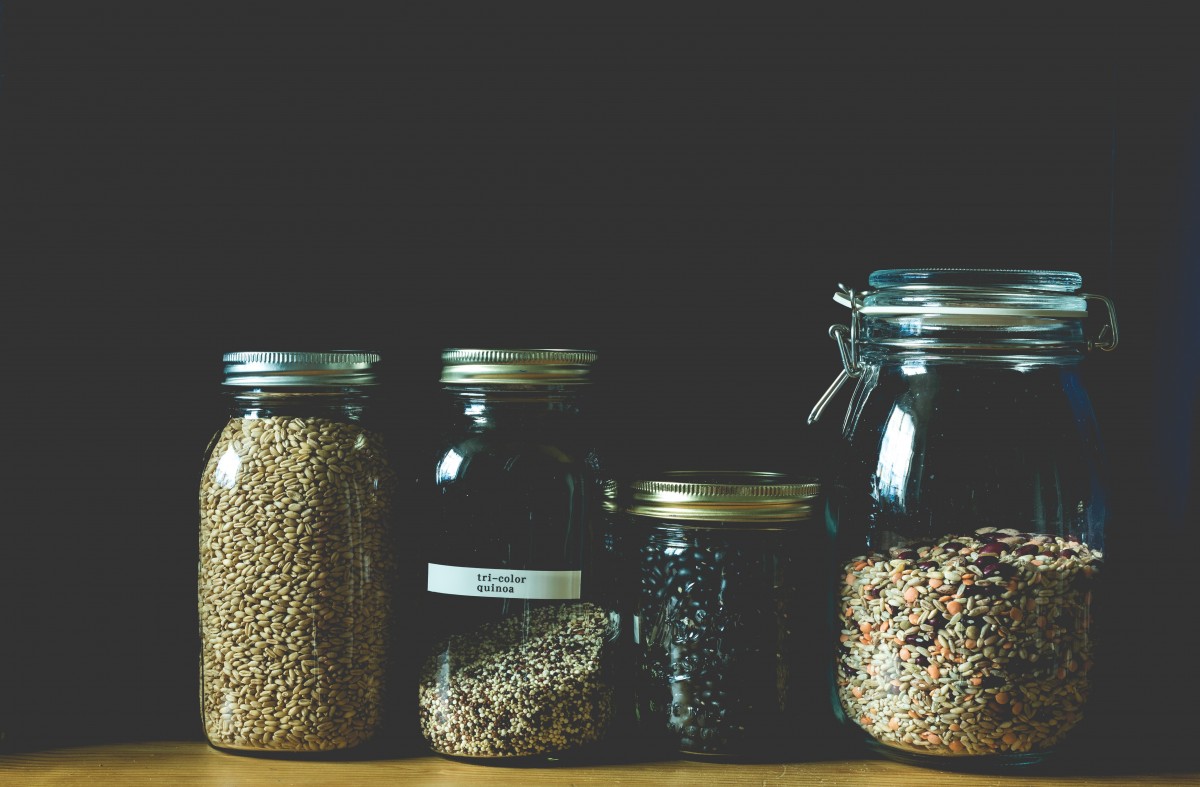 Your Larder
First of all, what is a larder? Well, it's not a pantry. A pantry is, historically speaking, where bread was kept and where preparation of foods associated with bread was done. While we're on a roll with vernacular, alcoholic beverages were stored in the buttery ("butts" of barrels) and cooking was done in the kitchen. A larder is a cool dark room (or if you don't have a room, then simply your cupboards and refrigerator) situated as close to the cooking area as possible. It should be easy to keep clean, free of insects and rodents, and have shelves. Older larders would have hooks to hang meats and some had a thrawl or stone slab to keep food even cooler.
Here is my list of some larder basics. Please note that my veggie is always filled with lots of different kinds of veggies, the key to good health. My larder can change and be edited over time, but the below is my list of basics.
Beans and Legumes (You may stock dried and canned)
Split peas, various colors
Lentils
Garbanzo beans
Black beans
Kidney beans
Adzuki beans
Grains
Brown rice, short and long grain
Quinoa
Millet
Brown basmati rice
Buckwheat
Bulgur
Wild rice
Cereals/Pastas
Oatmeal
Polenta/Cornmeal
Rice cereal
Oat Bran, refrigerated or in freezer
Wheat germ, refrigerated or in freezer
9-grain cereals
Linguini, whole grain or vegetable
Rigatoni, whole grain or vegetable
Baking Supplies
Whole-wheat and whole-wheat pastry flour
Unbleached flour
Non-gluten flour mix
Quinoa flour
Garbanzo flour
Rye flour
Baking powder, non-aluminum
Baking soda
Sea salt
Yeast
Vanilla extract, and other flavors if you like
Note: It's a good idea to refrigerate or freeze less-used flours.
Sweeteners
Sucanat or Rapadura
Molasses
Honey
Maple Syrup
Stevia
Coconut Sugar
Herbs/Spices (use fresh when you can)
Cinnamon
Ground ginger
Nutmeg, whole with a grinder
Curry
Basil (I often have fresh basil and parsley plants growing in my kitchen windowsill. )
Parsley
Tarragon
Sea salt
Black pepper
Cayenne pepper
Red pepper flakes
Turmeric
Garlic powder
Ground ginger
Cream of tartar
Cumin
Paprika
Saffron
Canned Goods
Diced tomatoes
Tomato sauce
Coconut milk
Tuna, salmon, sardines
Various beans; kidney, garbanzo, black, etc.
Chipotle peppers
Refried beans
Pumpkin
Condiments/Spreads
Ketchup
Mustard
Mayonnaise
Horseradish
Nut butters, almond, peanut, sesame
Rice-wine vinegar
Apple cider vinegar
Balsamic vinegar
Tamari/Soy sauce
Curry pastes
Applesauce
Teas/Beverages
Green tea and assorted other herbal types
Black tea and/or coffee if you have caffeine interests
Mineral water
Bottled water or a filter for your tap
Oils
Extra virgin olive oil, first cold-pressed
Flax oil, refrigerated
Sesame oil
Toasted sesame oil
Sunflower oil
Grapeseed oil (for high temperatures)
Unsalted butter, refrigerated
Ghee, refrigerated
Coconut oil
Frozen Food
Edamame (whole soy beans)
Peas
Corn
Spinach
Blueberries and other fruit (organic ideally)
Chicken and other meats and wild-caught fish, if desired
Refrigerated Food
Unsalted butter
Eggs, free-range
Milks, cow's and other dairy
Rice milk, almond, oat, or soymilk (Refrigerate after opening)
Yogurt, plain
Flax oil
Vegetables, seasonal, your choice
Fruit, seasonal, your choice
Nuts and Seeds (Always buy raw and if possible, organic)
Almonds
Walnut
Pine nuts
Pumpkin seeds
Sesame seeds
Flax seeds
Sunflower seeds
Fresh Vegetables and Fruit
Onions
Garlic
Fresh seasonal herbs
Ginger
Lemons
Leafy Greens; kale, chard, spinach
Seasonal vegetables and fruits
 Miscellaneous
Sea vegetables or seaweed, such as Kombu, Arame, Hijiki, and Nori