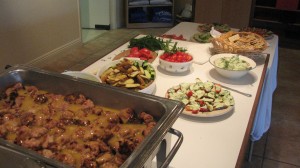 How about this menu for Super Bowl Sunday?
Fruit Salad, perhaps even skewered, like fruit shish-kabobs.
Jicama cut into slices and served with fresh salsa
Gucamole with veggies and chips. Try cutting corn chips into wedges and baking until crispy. Yum!
Meatballs (turkey, tofu, beef-your choice) with Honey-Mustard Dipping Sauce.
Chocolate Chip Cookies or Chocolate Beet Cake (you won't believe how good this is!)
How does that sound? Sounds good to me! Here are some recipes for you:
Honey-Dijon Meatballs
Prepare your favorite meatball recipe and while they are baking in the oven, prepare the sauce.
Honey-Dijon Sauce:
3 tablespoons Dijon mustard
1 tablespoon cornstarch
1/2 teaspoon onion powder
1-1/4 cups unsweetened pineapple juice
1/4 cup chopped red pepper
2 tablespoons honey
In a small saucepan, combine cornstarch and onion powder. Slowly whisk in
pineapple juice until smooth. Add red pepper and honey. Bring to a boil;
cook and stir 2 minutes or until thickened. Reduce heat; stir in
the mustard until smooth.
The last 10 minutes of baking the meatballs, brush meatballs with about 1/4 cup sauce. Serve with remaining dipping sauce.
Guacamole
How easy is this?
Serves 4
2 ripe avocados
Juice of one lemon, or lime
1/2 small red onion, diced
2 cloves garlic, minced
1 tomato, diced*
Sea salt to taste
Hot pepper sauce, to taste
Cilantro, chopped, optional
Mash the avocados, add the other ingredients, and mix.
*I don't purchase tomatoes in the winter generally, so I use salsa-about ¼ cup -instead of the fresh tomato.
Chocolate Beet Cake
Serves 10
2 cups beets, cooked and pureed
1/2 cup applesauce
1 1/4 cups sugar
1/2 cup unsalted butter, room temperature
1/2 cup plain yogurt
3 large eggs
2 teaspoons vanilla
1/2 cup cocoa powder
2 1/2 cups whole wheat pastry flour
1 1/2 teaspoons baking soda
1/2 teaspoon sea salt
1 teaspoon cinnamon
1/2 cup walnuts, chopped, optional
Preheat oven to 350 degrees. Grease and flour a 9X13″ pan.
In a large mixing bowl, combine the beets, applesauce, sugar, butter and yogurt. Using an electric mixer (or a whisk if you want the exercise!) mix well for 3 minutes. Add the eggs, and mix well again for 1 minute.
Mix together the dry ingredients and add to wet ingredients. Stir until combined. Stir in the walnuts. Pour into prepared pan and bake for 40-45 minutes or until toothpick comes out clean. Frost if you like, though we don't think it really needs it.
Per Serving:: 379 Calories; 16g Fat (35.1% calories from fat); 9g Protein; 56g Carbohydrate; 6g Dietary Fiber; 82mg Cholesterol; 331mg Sodium.
How to…
To make beet puree, roast beets or boil until soft but not mushy. Remove skin and puree in food processor.
Serving suggestion…portions.
You can easily cut this cake into smaller pieces. As Mary Poppins said, "Enough is as good as a feast."