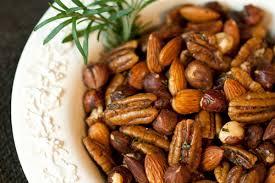 Who doesn't like nuts, especially roasted and herbed nuts? Try them as snacks/appetizers at your holiday party, or perhaps just for a Thursday night!
Here is one of my favorite recipes.
Herbed and Spiced Roasted Nuts
Preheat oven to 350 degrees and line cookie sheet with parchment paper.
3 cups raw nuts-1 cup pecans, (1 cup walnuts, 1 cup almonds or macadamia nuts or Brazil nuts, etc.)
2 tblsp maple syrup
1 tblsp olive oil
1 tablespoons fresh  herbs (sage, rosemary and thyme)
1/8 tsp cayenne
¼ tsp sea salt
1/8 pepper
Mix together and bake in preheated oven for 17 minutes, stirring once.