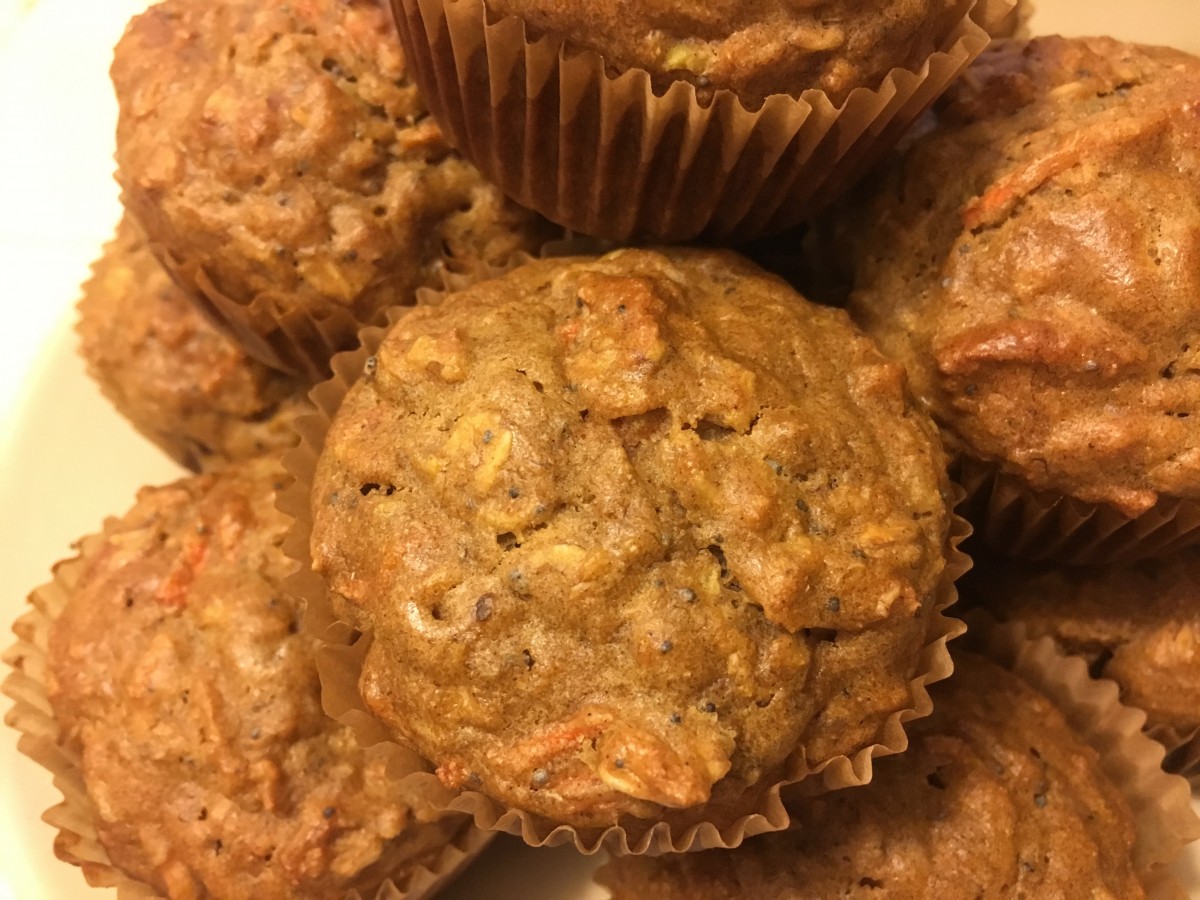 I needed to develop more muffin recipes with stevia, not sugar. Personally I can always taste stevia and it's not  a flavor I like. I have simply used some kind of non-refined sugar such as coconut sugar or sucanat and used less, but most people consume way too much sugar and stevia comes from a plant  (meaning it's not artificial) so I got to work. The below recipe is my favorite. I added the lemon juice to brighten the flavor, and more spices and extracts than most recipes call for-that's just me not wanting to taste stevia. I think I succeeded! I might have changed my own mind about stevia.
Carrot Apple Walnut Muffins
No sugar and non-gluten, if desired
These muffins contain stevia, which is the dried powder of the Stevia plant. Be careful to purchase Stevia without artificial sweeteners or sugar alcohols.
Preheat oven to 375 degrees
Makes 12 muffins
2 eggs
¼ cup olive or coconut oil
1/3 cup mashed banana
1/8 cup dried stevia See Note: *
1 medium apple, grated
1 cup grated carrot
½ cup milk-dairy or non-dairy, unsweetened
2 teaspoons vanilla
1 tablespoon fresh lemon juice
2/3 cup old fashioned oats- See Note*
1 cup plus 2 tablespoons flour- See Note*
½ teaspoon sea salt
1 ½ teaspoons baking soda
2 teaspoons cinnamon
½ teaspoon ground ginger
1/3 cup chopped raw walnuts
1 tablespoon poppy seeds
In a large bowl, place the eggs and whisk slightly. Add the mashed banana, stevia, apple, carrot, milk and vanilla and mix well. Next stir in the oats and let sit for 2 minutes. Combine the flour, baking soda and spices and add to the bowl, stirring briefly. Lastly stir in the walnuts and poppy seeds.
Place in well-greased (use olive oil or coconut oil) muffin tins or use muffin tin liner. Even with liners, I recommend greasing the bottom slightly as non-gluten flour seems to stick a bit more than other types of flour. Bake in preheated 375 oven for 25 to 30 minutes or until toothpick comes out clean. Let cool before trying to remove paper liners.
*Note: Use non-gluten oats if you are making this as a non-gluten recipe. Use non-gluten flour mix or flour made from the ancient wheat, Einkorn. To make this a vegan recipe, use egg substitute and nut milk. If you don't want to use Stevia, use 1/4 cup unrefined sugar such as Sucanat or coconut sugar.
Creativity: Feel free to change spices. Chinese 5-Spice is a nice choice. Perhaps add nutmeg or cardamom. You could use raw almonds instead of walnuts and use almond extract instead of vanilla.