There are five mother sauces: sauces that you will use time and time again, often with endless variations. The first is Bechamel Sauce, which can be used in lasagna, macaroni and cheese, on veggies (which I personally rarely do as I prefer veggies plain) and more.
Here is the recipe for the first Mother sauce with some variations: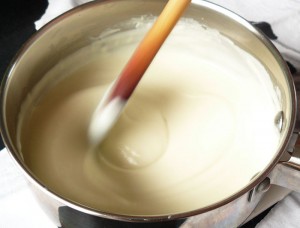 Béchamel Sauce with Variations
The sauce everyone should know how to make
Serves 4
2 tablespoons unsalted butter or olive oil
2 tablespoons flour
1 cup warmed milk
1/4 teaspoon sea salt
1 pinch nutmeg, freshly ground, optional
Heat the butter or oil in small saucepan over medium heat.  Stir in flour, mixing thoroughly as you go. Cook and stir for 1-2 minutes.
Slowly whisk in a small amount of milk to form a smooth paste. Continue until all the milk has been whisked in and the sauce is thick. Add sea salt & nutmeg to taste.
Variations:
Mornay Sauce
Add 1/2 cup grated cheese to 1 cup of hot sauce; stir over low heat until cheese is melted. Season with a little mustard or Worcestershire sauce to taste.
Herb Sauce
Add 1 teaspoon of freshly chopped herbs or 1/2 teaspoon dried herbs to 1 cup of hot sauce. Cook for a minute or two longer to get more flavor from the herbs.
Cream Sauce
Add 2 or 3 tablespoons of heavy cream to the finished sauce. For an onion flavor, add an onion slice to the milk when heating; remove onion slice before adding milk to flour and butter mixture.
Mustard Sauce
Combine 1 teaspoon dry mustard to flour used in sauce. This sauce is especially good with fish and chicken.
Alternative Ingredients:
You may use olive oil instead of butter, garbanzo flour instead of wheat flour and almond or soy milk instead of cows' milk, just to name a few substitutions.