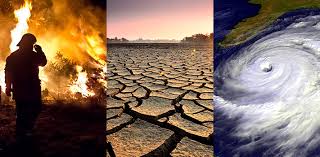 Things seem to be going to hell in a handbasket, as my mother used to say. Protests (for excellent reasons), derision and negativity on so many fronts. I see that many people want to do something to help but are stymied as to what that would be. I was one of them until today. I know what I do well, and what I need to leave for others. I am first and foremost an educator, and nutrition and cooking are my specialities.
So I decided that my focus will be on those those things I know best. I am also one who does not like confrontation/anger/negativity- I'm not comfortable with it. It makes me really uncomfortable.
So…
I will be teaching a series of classes I call, "The All Problems Can Be Solved In the Kitchen Project." Yes, I know it's long, but I believe it can happen! I believe that if everyone created and ate a meal together, all problems could be solved. These classes will be leave your politics and dogmas at the door. 
First is Climate Change (with two capital C's). We'll learn about how your food choices affect climate. Remember, no dogma's here and no judgements. It's about education and making changes as you can for the good of all.
The first class will be at the end of February, and I'll have a farmer as a guest speaker. We'll learn and cook and have a nice meal together as we solve the world's problems. Next we'll tackle world peace. I'm actually not kidding.
There will be limited space as smaller groups will give us the chance to hear what each of us has to say. We'll have a beautiful kitchen to 'work' (it certainly won't feel like work, but it will be important) in in Santa Rosa. More details in the next few days.
I'm so excited now that I have a plan!