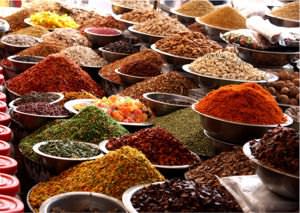 One day, I'd like to attend herbalist school. Ancient wisdom and the wisdom of plants is fascinating to me. I was asked the write this article for the members of The Green PolkaDot Box.
Spices, Herbs, Flavor and Health!
Simply put, an herb is the leafy parts of plants and spices are obtained from seeds, bark, dried buds, stigma, roots and rhizomes. More common than not, both spices and herbs are referred to as spices and defined as "any plant product used primarily for seasoning purposes."
Herbs and spices an inexpensive way to add flavor to food without the extra fat, calories, sodium or cholesterol. Many contain significant health benefits as well.
Black pepper is an excellent choice for seasoning if you need to limit your salt intake. It is available as whole or cracked peppercorns or ground into powder. Black pepper stimulates the taste buds, increasing hydrochloric acid secretion, thereby improving digestion. Black pepper has antioxidant and antibacterial effects, is a good source of Vitamin C, Calcium, Magnesium and Potassium, and a very good source of Dietary Fiber, Vitamin K, Iron, Copper and Manganese. Yes, I'll have pepper on my Caesar Salad please!
Cinnamon is close to being a wonder-food! It comes from the bark of a tropical tree and its warm sweet flavor might just save you some calories! Instead of sweetener try some cinnamon on your oatmeal, yogurt, cottage cheese, or even sprinkled on your next PBJ, sans the J. Cinnamon has one of the highest antioxidant values of any spice, may lower blood sugar levels, and reduces inflammation. It's also a good source of manganese, iron and calcium.
Rosemary is having its 15 minutes of fame! There are recent studies that show that rosemary can improve memory and learning. The health benefits of rosemary and usefulness as a culinary herb have been known for centuries, but we're glad the words out. Rosemary can also boost the immune and circulatory system and contains anti-inflammatory properties. It's a standout on roasted pork or chicken, in soups and sprinkled on bread or pizza dough before baking.
There are entire cookbooks on how to cook with garlic. We're not sure how you cook without it! It's a must in many cuisines including Italian, Asian, and parts of South and Central America and of course, here at home. Garlic is a member of the Allium family, which includes onions and garlic, and is known to improve cardiovascular health, reduce inflammation and is anti-bacterial, and antiviral.
Cumin is particularly good when you dry toast it for a couple minutes before adding it to your next Mexican bean dish. It's also a must in hummus- toasted or not-in Indian and Middle-Eastern Cuisines and on egg dishes. The health benefits of cumin are as wide and varied as its culinary uses. Studies have been shown that cumin may reduce cholesterol levels, improve immune function, decreases bloating (acts as a diuretic) and improve certain digestion problems.
Mustard really doesn't get the attention it deserves. Mustard contains selenium, magnesium, phosphorous, vitamin B1, and even omega-3 fatty acids. It is also excellent in deviled eggs, gives an interesting flavor in a béchamel sauce, and offers a nice kick whisked into homemade vinaigrette. Next time you make homemade biscuits, try adding a teaspoon into the dough; it adds an interesting flavor.
What is Curry? It is an ancient mixture and can include onion, ginger, turmeric, garlic, pepper, chilies, coriander and cumin. Turmeric is the nutritional standout with anti-inflammatory properties, cardiovascular protection, cancer-fighting properties, and may even assist in the treatment of Alzheimer disease. Try mixing a little curry powder into your next potato salad, scrambled eggs or sprinkle on roast chicken.
Bay Leaf can be added to soups to sauces, including (of course!) marinara sauce, and stews. You can crush or grind bay leaves, but most use it whole and remove the bay leaf after a period of time.  Bay leaves are thought to improve digestion, they have antibacterial components, and are thought be a diuretic. If that's not enough you can leave them in your pantry and cupboards to keep away bugs!
Remember to store your herbs in a cool, dry place (not next to the stove) and try to use them within 6 months. If your herbs and spices are outdated, it's time to purchase new. Before you reach for the salt shaker, try some flavorful herbs instead.
For further information on The Green PolkaDot Box:
https://www.greenpolkadotbox.com/invite/id/32/
Cites:
https://www.astaspice.org/i4a/pages/index.cfm?pageid=1
https://www.medicalnewstoday.com/about
https://www.ncbi.nlm.nih.gov/pubmed/12220968
https://www.ncbi.nlm.nih.gov/pubmed?Db=pubmed&Cmd=ShowDetailView&TermToSearch=17652175&ordinalpos=1&itool=EntrezSystem2.PEntrez.Pubmed.Pubmed_ResultsPanel.Pubmed_RVDocSum
https://www.naturalstandard.com/news/news201102033.asp