Simple ways to create elegant dishes
You can envision yourself standing at the table explaining the meal to your family or guests; dishes with the words 'caramelized' or 'scented' or 'toasted' in them. Lots of 'with this or that's' always impress. I will help with all the adjectives and meal accoutrements and all you have to do is announce them with a straight face like you do this everyday. By the way…this is all for fun as simple meals are impressive unto themselves…
First you are not serving a salad, you are serving:
Winter greens with toasted pecans, dried cranberries and a blood orange vinaigrette.
Recipe:
Go to the produce section scoop out some of the leaves in the 'winter greens' bin; take them home, wash and dry.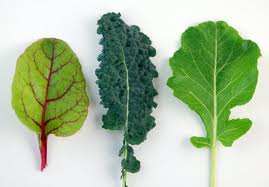 Place pecans in a skillet on the stove over medium heat and move them around with a wooden spoon until they are lightly toasted. Put them on a plate so they don't keep toasting as they could burn. Let cool.
Buy a Fuju persimmon, wash and slice very thin.
Make a standard vinaigrette, but instead of using vinegar or lemon juice use the juice from the blood orange.
A little tip here with the persimmon slices that you have beautifully fanned out along the side of the salad on the plates…leave a little something for a surprise. You don't want to name all the ingredients in the title-overkill -and you won't be able to verbally pull it off without laughing.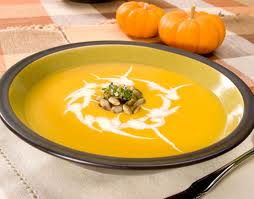 Doesn't that sound delectable and downright fancy? Well, it is, but it's not difficult.
Here is a recipe for pumpkin soup, but even if you purchase soup, the crème fraiche, sort of a rich sour cream, and a drizzle of sage oil adds a little easy sophistication.
Roast the pumpkin the day before or if you like. You may substitute butternut for the pumpkin.
Roasted Pumpkin Soup with Crème Fraiche and Sage Oil
Serves 6
2 pound pumpkin, cut in half with seeds removed
1 teaspoon sea salt or to taste
1/4 teaspoon of freshly ground black pepper
3 tablespoons olive oil
3/4 cup chopped yellow onion
1/2 cup chopped carrot
1/4 cup chopped celery
2 teaspoons freshly grated ginger
1 tablespoon minced garlic
3 1/2 cups chicken or vegetable stock
Preheat the oven to 400 degrees F.
Rub the pumpkin with I tablespoon olive oil and place the pumpkin on a parchment lined baking sheet, cut side down. Season with 1/2 teaspoon of the sea salt and 1/4 teaspoon of the pepper. Place in the oven and roast until the skin is golden brown and the pumpkin is tender, 50 to 60 minutes. Remove from the oven and allow to cool. Once cool enough to handle, use a spoon to scoop the pumpkin flesh and set aside.
Set a medium saucepan over medium-high heat. Add the remaining 2 tablespoons of olive oil and, when hot, add the onions, celery, carrots,  ginger and garlic to the pan and sauté, stirring occasionally, until lightly caramelized, 3 to 4 minutes. Add the stock and reserved pumpkin to the pan and bring the stock to a boil. Reduce to a simmer and cook the soup for 15 to 20 minutes, or until the vegetables are soft.
Remove the soup from the heat and blend in batches in a blender,food processor or immersion blender until smooth. Season with the remaining 1/2 teaspoon or more sea salt and pinch of pepper. Even at this point, you may add more minced garlic and ginger if you want a more intense flavor.
To serve, place 1 cup of the soup in each of 6 warm soup bowls. Top each bowl with a spoonful of crème fraiche and a drizzle of Sage Oil.
Variation: Add a can of coconut milk, more ginger and some curry, to taste. Serve with a salad for a weeknight dinner.
1/2 cup chopped fresh sage
1 cup olive oil
Place sage in a heavy saucepan; add olive oil. Warm over low heat, stirring occasionally for 20 minutes. Cool overnight. Pour through a fine wire-mesh strainer, discarding solids. Cover and refrigerate up to two weeks. Add at the end of cooking or in cold dishes. Use any extra for sautéing veggies or scrambled eggs.
Roasted Turkey with Thyme Butter
Melt a stick of butter over low heat and add 1 tablespoon of fresh thyme leaves. Let it sit for an hour to infuse the flavors. Brush on the turkey while it's roasting. Your gravy made from the drippings will be delicious.
Green beans with Caramelized Lemon Slices
Lightly steam green beans leaving them full length and snapping off only the stem end. Wash a lemon and slice into thin slices; remove seeds. Rub a skillet with a little olive oil and heat pan to medium-low heat. Add the lemon slices, single layer, and heat until lightly caramelized, about 5 minutes. Turn over and repeat. Chop half the slices and add to the green beans that you have sautéed in butter, then placed on a platter with the remaining slices on top as garnish.
Apple Crisp with Pistachio Cream
This is comfort food at its best with a twist. Everyone likes old-fashioned apple crisp, but this recipe offers healthier ingredients, meaning no white sugar or flour, and it has the delicious topping that is a perfect pairing and adds a touch of elegance.
3/4 cup whole-wheat pastry flour or non-gluten flour
1/3 cup packed Sucanat or Rapadura
1/2 teaspoon sea salt
1/2 cup Sucanat or Rapadura
8 tablespoons (1 stick) unsalted butter, cold, cut into small cubes
1 cup old-fashioned rolled oats (not quick-cooking)
3 pounds apples cut into 1/2-inch chunks
2 tablespoons fresh lemon juice
1-2 teaspoon ground cinnamon
Preheat oven to 375 degrees. In a large bowl, mix together flour, 1/3 of sugar and sea salt. Cut butter into flour mixture, using a pastry blender, two knives or food processor until mixture is the texture of coarse meal. Add oats and use your hands to form the mixture into large, moist clumps. Transfer to freezer to chill.
In another large bowl, toss apples with lemon juice, cinnamon, and remaining 1/2 cup sugar. Transfer to a shallow 2-quart baking dish, and sprinkle with topping mixture. Place baking dish on a rimmed baking sheet, and bake until golden and bubbling, 55 to 60 minutes. Let cool 10 minutes before serving.
Top with vanilla ice cream or pistachio cream, if you like.
Pistachio Cream
For pistachio paste:
Shell raw pistachios.  Blanch them for a couple minutes in boiling water, and then drain and cool.
Place the pistachios in a food processor and process until fine, adding a bit of cream to puree. Add confectioners sugar to make a sweetened paste.
For the cream:
Whip cream and carefully add pistachio paste to the cream. Allow to firm in the refrigerator before serving.