These are not everyday recipes, but special occasion recipes. First you put on the brown rice (short grain) to cook while you make the curry paste, then the curry sauce, then cook the salmon (poach, grill, bake, saute or cook on a salt block like I did) then assemble. If you're a vegetarian substitute eggplant for the salmon that has been dredged in flour and sauteed or baked. It's delicious and beautiful!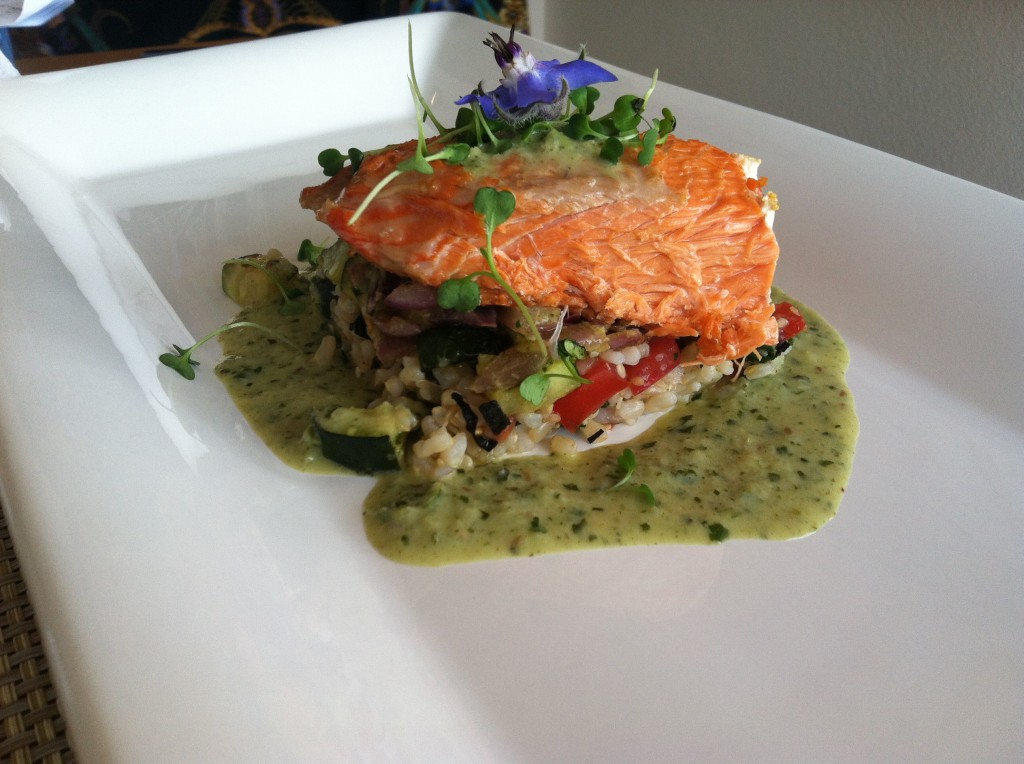 Green Curry Salmon Stack
Curry Paste
2 shallots, chopped
5 cloves garlic, chopped
1 1/2 tablespoons peeled grated ginger
½ cup cilantro, chopped
3 stalks lemongrass, the bottom half, chopped
2 Serrano or Thai chilies
1 teaspoon toasted cumin seeds
½ teaspoon freshly ground pepper
1-tablespoon lime zest
¼ cup fresh lime juice
1 ½ teaspoons sea salt
1 tablespoon white miso
2 tablespoons honey, agave or brown rice syrup
¼ cup water
In a food processor, place all ingredients and blend until mixture is a coarse paste. Strain. Can be stored in the refrigerator for up to 2 weeks.
Note: You may use a mortal and pestle for the dry ingredients and when ground place in a bowl. Stir in liquid ingredients.
Yield: 2 cups
Green Curry Sauce
1-cup curry paste
14 ounces canned coconut milk
1-cup rice milk
1-cup zucchini or any green-colored summer squash
½ cup basil leaves, stems removed
½ cup cilantro, stems removed
½ teaspoon sea salt
In medium saucepan combine the curry paste, milks and bring to a boil, reduce heat and simmer for 15 minutes. Let cool slightly and blend with the remaining ingredients until smooth.
Yield: 3 cups
6 Servings
Barley or Brown Rice Salad
3 cups cooked barley or short-grain brown rice
2 green onions, white part only, thinly sliced
1 small tomato, finely diced
1 small cucumber, unpeeled, seeds removed, finely diced
¼ cup fresh lime juice
1-teaspoon sea salt
2 tablespoons chopped fresh mint
1-tablespoon sesame seeds, dry toasted
Combine all ingredients and mix well.
Yield: 3 cups
6 Servings
Sautéed Summer Vegetables
1-tablespoon olive oil
1 ½ pounds summer vegetables, cut into bite sized pieces
1 tablespoon mint leaves, chiffonade
1 tablespoon basil leaves, chiffonade
1 small peeled red onion, thinly sliced
In large sauté pan, heat the olive oil over medium high heat and add the 1-½ pounds of veggies. Cook for about 3 minutes. Add the sliced red onion and ½ cup curry sauce and cook for another 3 minutes.
Yield : 6 cups
6 Servings
Salmon on a Salt Block
Rub salt block with olive oil. Preheat salt block for 10 minutes. Cook 1" thick salmon, skin off, for 7 minutes on the first side, flip and cook another 5 minutes on the other side.
6 4-ounce fillets
To Assemble:
Place 1/3 cup barley or rice salad in a small bottomless mold, in a shallow bowl or a plate with a high rim. A white plate is nice for this recipe. Place  1/4 cup sautéed veggies on top of the barley or rice salad, then place the salmon on top. Top with a little sauce and fresh sprouts. Pour 1/3 cup curry sauce around the plate and serve.
Recipe Adapted by Patty James