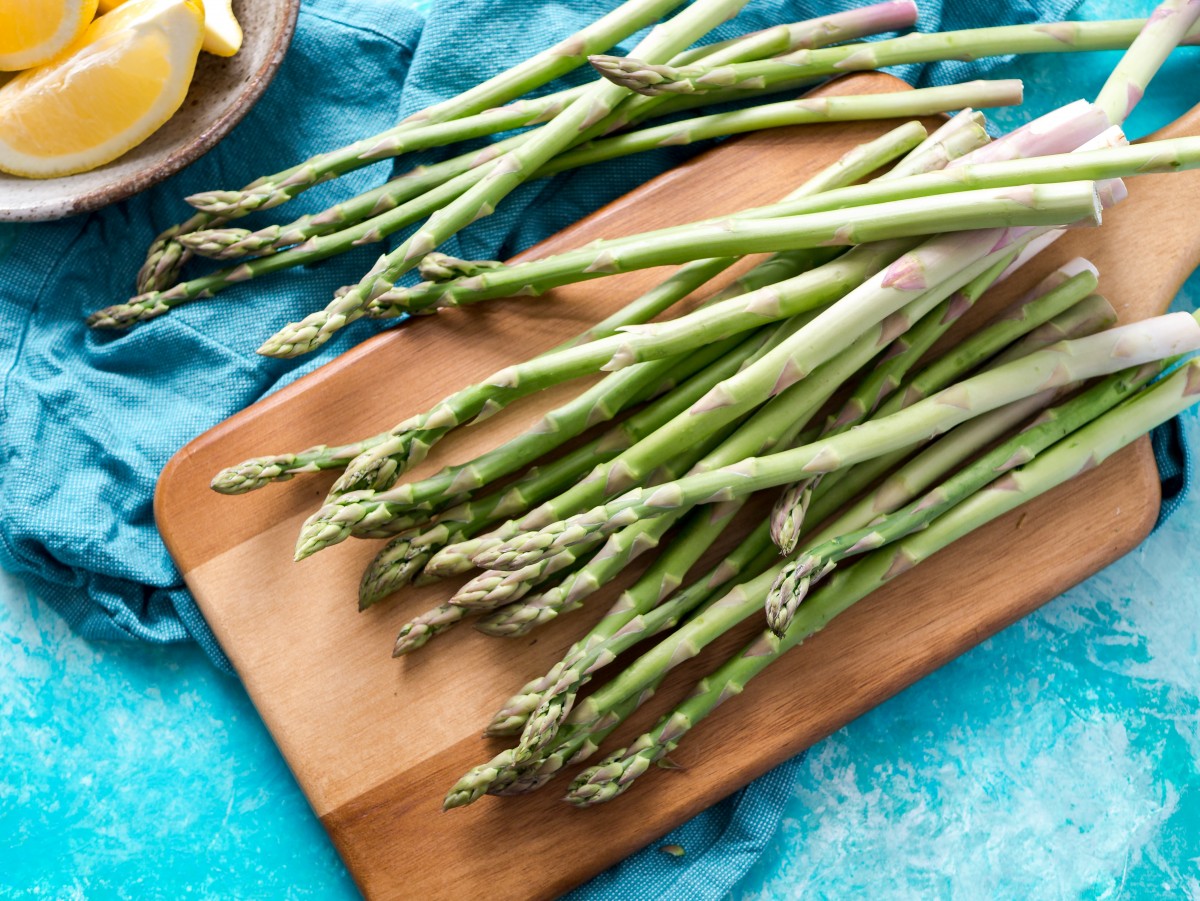 In the spring the focus is on fresh, lighter faire representing the new growth of the season. Outside everything is fresh and green and your plate should be the same. Spinach, tender kale leaves, Swiss chard, lettuce, parsley, and of course the bastion of spring, asparagus. The fresh foods of spring need only light steaming, if cooked at all.
Some asparagus recipes for you!
Asparagus Salad with Orange Vinaigrette
Serves 2
1/2 pound asparagus, cut into 1″ pieces
1 tablespoon orange juice, freshly squeezed, or lemon juice
1/2 teaspoon white wine vinegar
1/2 teaspoon Dijon mustard
1 clove garlic, minced
1/2 teaspoon honey
2 teaspoons orange zest or lemon zest
1/4 cup sesame oil, not toasted sesame oil
1 teaspoon cumin seed, toasted and ground
Bring a pot of water to a boil in which a steamer has been placed. Add the asparagus pieces and steam for 2-3 minutes or until al dente. Plunge into ice water to stop cooking, drain and cool in the refrigerator.
In a small bowl, combine the orange juice, vinegar, mustard, garlic, honey and the zest. Whisk in the oil. Stir in the cumin seeds.
Immediately before serving, drizzle the dressing over the asparagus pieces. Season with sea salt and pepper.
Serving suggestion
Place on a butter lettuce leaf or some fresh spinach leaves and garnish with carrots, thinly sliced, and orange wedges. This may be served cold or at room temperature.
When you have very tender asparagus in the spring, wash and eat them raw. You may dip into your favorite dip recipe if you like.
Health Tip
Asparagus is high in vitamins K, A and C as well as folate and dietary fiber.
Grilled Asparagus
Asparagus is very high in vitamin K, but also folate which is a water-soluble vitamin and is needed for the production and maintenance of new cells, therefore very important during pregnancy and infancy.
 Serves 4
1 pound asparagus
3 tablespoons olive oil, divided
2 teaspoons fresh lemon juice
1/2 teaspoon sea salt
1/4 cup Parmesan cheese, shaved with a potato peeler
Wash the asparagus and discard the tough ends; sometimes up to 2-3″ of the bottom of the stalk. Heat coals or grill to medium-high or you may also use the broiler. Brush the asparagus with 1 tablespoon of the olive oil and sprinkle with the sea salt. Grill, turning asparagus until they have a bit of color on all sides.
Place on a platter, mix the remaining olive oil with the lemon juice and sprinkle on the asparagus. Top with freshly ground black pepper and the Parmesan cheese. Simple and delicious.
Serving suggestion:
What kind of fish is available in the spring? For some it might be salmon, which would be wonderful grilled with this asparagus dish. That and a fresh baby spinach salad would be perfect. Simple and elegant.
Wild and Brown Rice with Seasonal Vegetables
Did you know that wild rice is not rice at all, but a grass? Wild rice is high in protein, manganese, some B vitamins and dietary fiber.
Serves 6
1 1/2 tablespoons olive oil
2 cups leeks, sliced
3 cloves garlic, minced
1/2 teaspoon turmeric
4 cups water
1 1/2 cups long-grain brown rice
1/2 cup wild rice
2 medium carrots, diced
1 cup peas, frozen
2 tablespoons parsley, minced
1/2 teaspoon dried thyme
1/2 teaspoon black pepper
1/2 teaspoon salt
12 asparagus, tough ends, if any, removed
Preheat oven to 375 degrees.
In a large cast iron skillet or Dutch oven, heat oil; add leeks and garlic. Cook over medium heat about 7 minutes, stirring occasionally. Add the turmeric; cook 1 minute more.
Stir in water, brown rice, wild rice, carrots, peas, parsley, thyme, pepper and salt. Cover and bake 45 minutes. Remove from the oven and fluff with a fork.
Arrange asparagus over top, cover, and bake until liquid is absorbed, about 10 to 15 minutes.
Remove from oven; and let stand for 10 minutes before serving.
Eating seasonally
In the spring use green onions and asparagus
In the summer use leeks and green beans or sliced zucchini
In the autumn and winter use red onions and thinly sliced winter squash