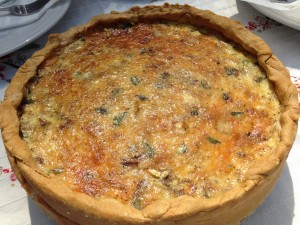 This is such a simple recipe! It's a wonderful dish for any meal. With breakfast serve with a fruit salad, for dinner serve with a green salad.
Quiche
Line a 9″ pie pan with your favorite pie crust. Do not bake.
Preheat oven to 425 degrees with the rack in the center of the oven.
Now here is where your creative nature can shine through. The photo you see was the Quiche I made for Easter brunch. I simply sauteed 2 small yellow onions (about 1 cup after cooking) until they were very light brown, cooled them and placed them on the crust. I sprinkled them with a little salt and pepper-about 3/4 teaspoon salt, and 1/2 teaspoon pepper. On top of the onions-or 1 – 1 1/2 cups of whatever veggies you choose-place about 1 tablespoon chopped fresh parsley and 1 cup shredded cheese of your choosing. I admit I like simple sharp cheddar.
In a medium bowl place 3 eggs and whisk well, but not until foamy. Add 2 cups milk of your choosing that has been warmed slightly. Pour onto the veggie/cheese mixture.
Bake for 10 minutes, then turn heat down to 375 degrees and bake for another 35-40 minutes or until light golden brown. Remove from the oven and let sit for 10 minutes before slicing.
Enjoy!
Note: The quiche you see was made in a 9″ spring-form pan and took 2 pie crusts. I used slightly more veggies and cheese and used 5 eggs and 3 cups milk. It took a total of 55 minutes to bake.