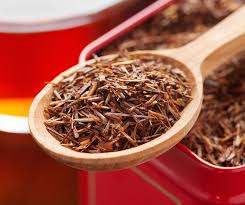 This recipe offers a wonderful Chai flavor. The photo is of rooibos tea. Enjoy!
Chai Ginger Shake
Serves 1
1 cup warm brewed rooibos tea
1 teaspoon cinnamon
1/2 teaspoon allspice
2 teaspoons ground ginger or 1-2 tablespoon freshly squeezed ginger juice
1/2 cup almond or coconut milk
2 tablespoons almond butter
Coconut nectar, raw honey or stevia to taste
Optional: 1 scoop protein powder of your choice
Blend until smooth. Drink warm for optimal digestion.