I spend way too much time thinking about food -always have. If I have a nice selection of veggies-and I always do-then I can always whip up something. Being a nutritionist and chef, I also think about balancing my nutrients every day. It's second nature to me now (I just started humming a song from My Fair lady as I wrote that) but if it doesn't come naturally to you, perhaps a sample day might help.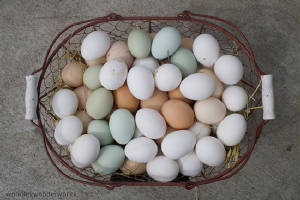 I am fortunate to have eggs given to me by a good friend-who is also my doctor-so I know the chickens are well cared for and live free-range. If you have eggs and veggies, any meal is moments away. I almost always have kale in my house, so today it's kale and eggs for breakfast. Just lightly steam the kale, drain the water, toss with a little olive oil, sea salt and pepper and saute in a pan over medium low heat for a couple minutes. Make a little nest for each egg you use and crack each egg into the nest. Cover and cook for 3-4 minutes or so depending on how you like them. Sprinkle with fresh herbs and serve.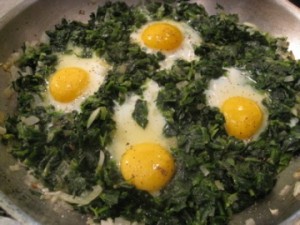 So I've had a good amount of leafy green veggies, healthy fat and protein from the eggs.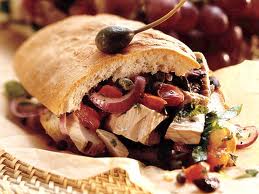 By the way, I often times have a piece of fruit with my morning tea about an hour or so before breakfast. Right now I am eating fresh pears quite a bit as I had a little cough and pears can help lubricate your lungs-7 days/7 pears and the cough is gone.
For lunch, it's a Mediterranean Tuna Sandwich using fresh or canned tuna. Yum..
Here's the recipe:
Mediterranean Tuna Salad
Don't you love delicious, healthy recipes that have one line of directions? I don't use mayo in mine. I skip it and add some olive oil instead-much more Mediterranean!
Serves 4
2 small cans tuna, drained, pole caught small-size Albacore is a good choice.
1/2 14 ounce can artichoke hearts, packed in water, drained, chopped
1/4 cup red bell pepper, finely chopped
1/3 cup Kalamata olives, sliced
1/4 cup red onion, minced
1 tablespoon fresh parsley, chopped
1 tablespoon fresh basil, chopped
1 clove garlic, minced
1/2 teaspoon dried oregano
1 1/2 tablespoons fresh lemon juice
1/3 cup mayonnaise, optional (I use a splash of olive oil instead)
Freshly ground pepper to taste
Combine all ingredients in a medium bowl; mix together well.
Per Serving: 339 Calories; 25g Fat (64.3% calories from fat); 22g Protein; 9g Carbohydrate; 3g Dietary Fiber; 39mg Cholesterol; 307mg Sodium.
Fresh or canned?
If you have fresh tuna, then by all means use that! If not a good quality canned will be fine. For further information about which fish to eat for your health and the health of the oceans and fish populations, see www.oceansalive.org
Serving suggestions
Place a lettuce leaf on a plate and mound the tuna salad on top. Try stuffing in pita bread or inside a hollowed out tomato.
So far I've had a good amount of protein for one day, but not nearly enough veggies. I did put tons of veggies on my sandwich and had kale for breakfast, but that's not nearly 5 to 9 cups. That said, I'll have a big salad for dinner with tons of chopped veggies, and a nice lettuce mix. I'll toss it with lemon juice and olive oil. Simple. I'll also make some tempeh-I love tempeh!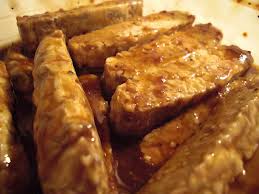 I slice it, steam it for about 10 minutes, marinate in Italian dressing or whatever I have handy and saute until lightly browned.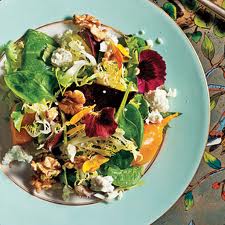 That's it! I just made some oatmeal cookies, so I'll have one or two as well. I drink a lot of water between meals, black tea in the morning and herb tea throughout the day. Sometimes I'll have nice glass of red wine with dinner.
This is a pretty typical day for me. I feel strong and healthy with lots of energy to do what I want to do.