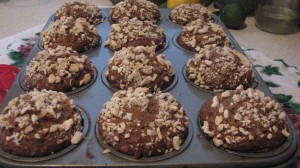 Did that photo get your attention? Mainly I want to show you how simple changes in a recipe can make it healthier.
The original recipe called for 1 1/4 cup of firmly packed brown sugar and I used a little less than 1 cup and didn't pack it at all, so most likely it was about 3/4 cup. The original recipe called for 3/4 cup vegetable oil and I used 1/4 cup applesauce and 1/2 cup grape seed oil-that's all I had, but would have preferred walnut oil. The original recipe called for 2 cups white flour and I used 1 cup of unbleached flour and 1 cup whole-wheat flour. I always use sea salt and recipes almost always call for the highly processed salt you buy in many grocery stores.
These are small changes, but they helped make the recipe a little better for you. Let's not kid ourselves, steamed kale and a poached egg (or tofu) or a bowl of oatmeal would be a healthier choice, but still, muffins-warm out of the oven- are really nice on a winter morning.
Here's the recipe:
Morning Glory Muffins:
Preheat oven to 350 degrees
Makes 12 muffins
Butter or oil a muffin pan.
Grate an apple and 2 carrots and set aside. You should have 1 cup grated apple and 1 1/4 cups grated carrots.
Also set aside 1/3 cup shredded coconut (not the sweetened kind) and 1 cup chopped nuts of your choice. I used cashews because that's all I had-would have preferred walnuts. You are going to save out 1/3 of the 1 cup of nuts to put on top.
In a large bowl combine:
2 eggs
1/4 cup applesauce
1/2 cup walnut oil
2 teaspoons vanilla
1/4 cup milk, dairy or non-dairy
Mix well. Use a whisk or electric mixer.
Add 3/4 cup brown sugar (do not pack it in.) Mix well again.
In a separate bowl mix together:
1 cup whole-wheat flour
1 cup all-purpose flour
2 teaspoons baking soda
1/2 teaspoons sea salt
2 teaspoons cinnamon
1/8 teaspoons ground cloves, optional
1/8 teaspoon ground nutmeg, optional
Fold in the dry ingredients into the wet ingredients and stir just until blended. Stir in the apples, carrots and 2/3 cup of the 1 cup of nuts. The remaining 1/3 cup of nuts is for the top. If you like add some raisins or dried cranberries or other dried fruit-about 1/2 cup.
Divide batter among the 12 muffin cups. Top the batter with the remaining 1/3 cup nuts.
Bake for 20-25 minutes. In my oven they took about 23 minutes, yours might be different, so test with a toothpick for done-ness after 20 minutes.
Let cool in the pan for 5 minutes, then remove and serve, or place on cooling rack to cool. You may freeze these and get them out as you need them. Wrap in foil and heat in the oven. Please no microwaves.
Enjoy!