Isn't this beautiful?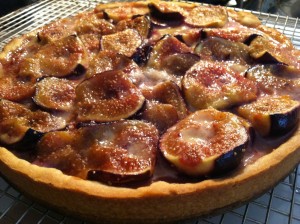 This is such an easy recipe!
Fresh Fig Tart
Makes 1 -12" tart
Ingredients:
Tart Dough:
13 tablespoons cold butter, cut into pieces
1/3 cup confectioners' sugar
1 1/2 cups all-purpose flour
1 large egg yolk
1 tablespoon heavy cream
.
Fig Filling:
1/2 cup heavy cream
2 tablespoons honey
16 ripe figs, washed, stemmed and cut in half
Preparation:
To make the tart dough: In a large bowl, combine sugar and flour and cut in butter as for pie dough. Combine egg yolk with 1- tablespoon heavy cream. Add to flour-sugar-butter mixture and bring pastry to a ball. Wrap in plastic and refrigerate for 2 hours.
On a lightly floured surface roll pastry dough to a 14-inch circle and fit into a 12-inch tart pan with a removable bottom. Return to refrigerator and chill for 30 minutes.
Heat oven to 375 degrees. Top pastry with a piece of parchment paper and place pie weights or dried beans on it. Bake for 12 minutes (this is known as baking blind) or until pastry is light golden. Remove the parchment and pie weights and bake for another 2 minutes.
To make the filling: Meanwhile, in a small saucepan, combine cream and honey and stir over medium heat until honey has dissolved. Remove from heat and set aside for 5 minutes.
In a large bowl, combine figs with half the honey-cream mixture, stirring to coat. Arrange the figs on the parbaked tart shell and drizzle the remaining honey-cream mixture on top.
Bake 25 to 35 minutes or until juices are bubbling around edge of tart. Remove from oven and let sit for 10 minutes before removing tart ring. Transfer to a wire rack to cool completely.