Today I felt like making some muffins and I had oat bran, but didn't feel like making my tried and true Oat Bran Muffin recipe.
Here is what I came up with and I'm sure you'll agree, it's a winner! It smells so good in here!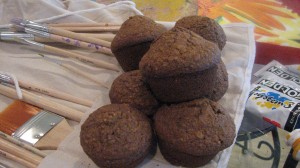 Bran Muffins:
1 1/2 cups oat or wheat bran
1/2 cup boiling water
1/2 cup unsalted butter, softened*
3/4 cup light sugar*
3 large eggs
2 tablespoons molasses
1-teaspoon vanilla
1-cup all-purpose flour
1-cup whole- wheat pastry flour
2/3 cup old-fashioned rolled oats (not instant)
1 ½ teaspoon ground cinnamon
!/4 teaspoon ground nutmeg
1/4 teaspoon ground cloves
2 teaspoons freshly grated orange zest
1/4 teaspoon sea salt
2 teaspoons baking soda
1-teaspoon baking powder
3/4-cup milk, dairy, almond, or soy
3/4 cup Chai*
Place the oat or wheat bran in a bowl and stir in the boiling water. Set aside.
In the bowl of your electric mixer, or with a hand mixer, beat the softened butter with the sugar until it is light and fluffy. Beat in the eggs, one at a time, beating well after each addition. Add the vanilla and molasses and beat until well blended. Add the oat or wheat bran and beat until combined.
In a large bowl, whisk together the flours, oats, cinnamon, nutmeg, cloves, orange zest, sea salt, baking soda and powder.
In a small bowl combine the milk and Chai.
Add the flour mixture, alternately with the wet ingredients, to the bran mixture, beginning and ending with the flour mixture. Cover the batter and let sit for 15 minutes or cover and refrigerate for several hours or even overnight.
Preheat oven to 375 degrees F and place the rack in the center of the oven. Line a 12-cup muffin pan with paper liners or rub well with butter or walnut oil.
Fill the muffin cups about 3/4 full and bake about 20-22 minutes or until a toothpick inserted into the center of a muffin comes out clean. Remove from oven and place on a wire rack to cool slightly before serving.
* You may substitute pumpkin puree or applesauce for the butter. I use Sucanat or Rapadura for the sugar. If you don't have Chai, simply use more milk and increase your spices slightly.
Makes 16 standard-size muffins
I hope you enjoy them. Freeze what you don't use today, get out however many you want to reheat, wrap in foil and reheat in the oven-no microwaves, please!